The Diamond Carriage Driving Group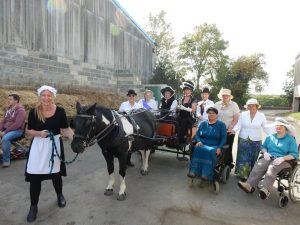 We are a small friendly section of the Diamond and we drive on Tuesday and Thursday mornings in term time. We currently have one RDA (Riding for the Disabled) approved, carriage driving pony called Polly. She is a 17 year old 12.2hh Piebald and she drives a 'turnout' at 10am and then another at 11am. We are lucky enough to drive in Queen Mary's Park, which we access from our fields. We enjoy a good rapport with the many dog walkers and other park users. We have six disabled drivers with different skills and abilities and three whips (carriage driving instructors). The whips sit next to the driver and each has a set of reins—a bit like a dual control car! We also have a fantastic ground crew, who come out with us on foot, or on bicycles, just to make sure we're OK and to advise dog walkers that we're coming through!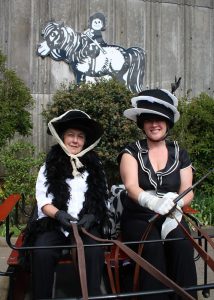 In May this year, we entered the RDA's Musical Drive Competition with our take on My Fair Lady and were delighted to win first place! Sally Bitten, who has been driving for just three years, was accompanied by one of our whips, Nicki England. Our ground crew entered into the spirit of the event with costumes and bravely became human cones for the carriage to be driven around!
We dug out our costumes again to showcase the drive at the Diamond's Autumn Fair, at the end of September.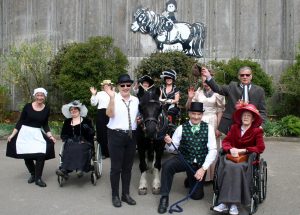 We have two potential carriage driving ponies, who are undergoing training and they will hopefully pass their RDA assessments and join the crew. Darling Daisy, is a 7 year old, 13.2hh Blue Roan Cob, who picks things up very quickly. Unfortunately, she had an injury and we were unable to drive her for six months. She's on the mend now and will hopefully be assessed before the end of the year.
Biddable Belle is an 8 year old 14.00hh Black Mare. She is currently being driven by the whips and we hope to get her RDA assessed next summer. Daisy and Belle are both RDA riding ponies, so they are multi talented!
As a group, we have taken a few trips, including a canal trip last year and a pleasure drive in the Surrey Hills this year. We keenly take part in various training sessions at home and at other RDA Centres. We also like to enter a team or two in the Diamond's Quiz Nights and always end each term with tea and cake!