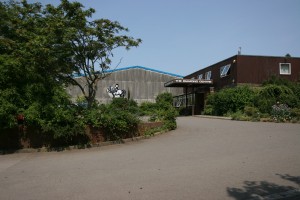 The Diamond Centre for Disabled Riders is a registered charity, which provides facilities to benefit disabled children and adults by having regular contact with horses. Licenced by the London Borough of Sutton licence number 19/00102 – five star rating.
The Diamond Centre is a unique establishment for riding for the disabled and is known and respected world-wide. We are the only Centre of its kind in the London Region specialising in all fields of riding for the disabled including; dressage, carriage driving, vaulting and hippotherapy.
'It's great the way his confidence has improved since he started at the Diamond. Riding has also helped his stamina'
Our riders are aged between 4 and 65 years old and each week, with the assistance of our instructors and helpers, they can enjoy the experience of riding, driving or vaulting. An experience which gives them the chance to be independent, a sense of achievement – and puts smiles on their faces!
'The Diamond is the only place where I can come and be me – out in the community people put you into a box and only see your disability'
It costs more than £300,000 each year just to run the Centre – and this doesn't include the additional costs which occur such as replacing equipment, fences, horses and ensuring our buildings remain in good condition. We receive no financial support from the government or local authority and we rely solely on fees, donations, bequests and fundraising events in order to survive.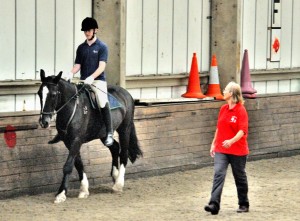 'I am grateful for all the hard work put in on my behalf which allows me to ride at The Diamond and would like to thank all the helpers, staff and especially the instructors'
In May 2004 we celebrated our 30th Birthday with a visit from HRH The Princess Royal, who is President of the Riding for the Disabled Association. The Diamond Centre's Trustees are looking forward to the next 30 years and planning to ensure that the future of The Diamond Centre is secure so that disabled children and adults will continue to enjoy the benefits of our special facilities.
'You are not treated with kid gloves at The Diamond – out in the community some people try and 'wrap you in cotton wool'
The Diamond Centre's success hinges on its excellent team of volunteer instructors and helpers – without them we could not operate. In 2000 we won the Sport England Volunteer Investment Programme Award – an award for excellence in training, organising, retaining and rewarding volunteers.  In June 2009 we were given The Queen's Award for Voluntary Service.
'I am looking forward to riding in the National Dressage Championships being held at Hartpury College in Gloucester and representing The Diamond. My hope is that I ride to the best of my ability'
Many of our volunteers start with no previous experience of horses or the disabled. They come from all walks of life – and are all ages. Some help at The Diamond for a couple of hours each week and some for a couple of days. For those who would prefer not to work with horses, help is always needed to run the servery selling cups of tea etc. or maintaining the gardens.
 'Every Wednesday dawns with great happiness as I look forward to my lessons. I'm greeted by friendly welcoming people with smiles. I'm growing in confidence, as I learn new skills – and it's fun!'
If you would like to become a volunteer please call us on +44 (0) 20 8643 7764 or contact us.