Make a donation
The Diamond Centre relies heavily on voluntary donations to subsidise the cost of providing riding facilities to disabled riders. It is only with help from people such as yourself that we can make the rides affordable to everyone.
We welcome donations from private individuals, clubs, groups, businesses and charitable trusts. Sponsorship can vary from maintenance of a pony, sponsoring rides and riders, through to purchase of a new horse or equipment.
Please help by either donating online via our Just Giving page or sending your donation, along with your contact details to:-
The Centre Manager, The Diamond Centre for Disabled Riders Woodmansterne Road, Carshalton, Surrey SM5 4DT, England
Telephone +44(0) 20 8643 7764/ FAX +44(0) 20 8643 8720
The Diamond Centre is a registered charity and receives no government or local authority funding. It currently costs over a quarter of a million pounds each year to run the Centre and we have to rely on fees, fundraising events, donations and legacies in order to survive. Without the support of people like you we would be unable to continue helping disabled riders who gain so much from their regular contact with horses, and achieve remarkable improvements in many cases.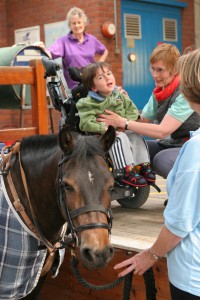 Your legacy will help secure our future
With ever increasing costs, it is becoming increasingly difficult to raise the money we need to continue our work and Legacies have become a vital element within our fundraising activities. A promise in your Will to support The Diamond Centre for Disabled Riders with a Legacy could be one of the greatest gifts you ever leave. Your gift would help to secure our future and ensure we can carry on helping those who deserve the opportunity to feel some form of independence by participating in horse riding or carriage driving.
For example your gift could be used for:
– Funding the salary of a physiotherapist, instructor or groom
– Purchasing new horses
– Purchasing new tack or other equipment
– Making improvements to buildings and stables
Currently we need to raise £300,000 annually. We receive no financial support from government so donations and sponsorship are essential to enable us to run the Centre.
Give shares as a gift…
… and make substantial tax savings on both Capital Gains and Income Tax.